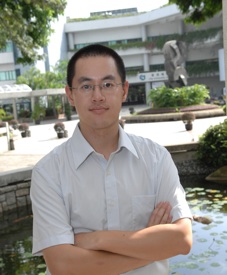 Dr. Antoni B. Chan
Assistant Professor
BSc MEng Cornell, PhD UC San Diego
Video, Image, and Sound Analysis Lab (VISAL)
Department of Computer Science
City University of Hong Kong
Office: Room Y6414, Academic Building (lift 9)
Phone: +852 3442 6509
Fax: +852 3442 0503
Email: abchan at cityu dot edu dot hk
Bio
Dr. Antoni Chan is an assistant professor at the City University of Hong Kong in the Department of Computer Science.  Before joining CityU, he was a postdoctoral researcher in the Department of Electrical and Computer Engineering at the University of California, San Diego (UC San Diego).  He received the Ph.D. degree from UC San Diego in 2008 studying in the Statistical and Visual Computing Lab (SVCL). He received the B.Sc. and M.Eng. in Electrical Engineering from Cornell University in 2000 and 2001. From 2001 to 2003, he was a Visiting Scientist in the Computer Vision and Image Analysis lab at Cornell. In 2005, he was a summer intern at Google in New York City. In 2012, he was the recipient of an Early Career Award from the Research Grants Council of the Hong Kong SAR, China.
Research Interests [more]
Computer Vision, Surveillance, Machine Learning, Pattern Recognition, Computer Audition, Music Information Retrieval, Eye Gaze Analysis
dynamic textures, motion segmentation, motion analysis, semantic image annotation, image retrieval, crowd counting, probabilistic graphical models, support vector machines, Bayesian regression, Gaussian processes, semantic music annotation and retrieval, music segmentation, feature extraction.
For more information about my current research projects, please visit my lab website.
Opportunities for graduate students and research assistants! If you are interested in joining the lab, please check this information.
Recent Publications [more]
Heterogeneous Multi-task Learning for Human Pose Estimation with Deep Convolutional Neural Network.

,

International Journal of Computer Vision (IJCV)

,

to appear 2014

.

A Scalable and Accurate Descriptor for Dynamic Textures using Bag of System Trees.

,

IEEE Trans. on Pattern Analysis and Machine Intelligence (TPAMI)

,

to appear 2014

.

Leveraging Long-Term Predictions and Online-Learning in Agent-based Multiple Person Tracking.

,

IEEE Trans. on Circuits and Systems for Video Technology (TCSVT)

,

to appear, 2014

.

A Robust Panel Extraction Method for Manga.

,

In:

ACM Multimedia

,

Orlando

,

to appear Nov 2014

.

Look Closely: Learning Exemplar Patches for Recognizing Textiles from Product Images.

,

In:

Asian Conference on Computer Vision (ACCV)

,

Singapore

,

Nov 2014

.

Understanding eye movements in face recognition with hidden Markov model.

,

In:

6th Chinese International Conference on Eye Movements (CICEM)

,

Beijing

,

May 2014 (oral)

.

Clustering hidden Markov models with variational HEM.

,

Journal of Machine Learning Research (JMLR)

,

15

(2)

:697-747

,

Feb 2014

.
Selected Publications [more]

Google Scholar


Microsoft Academic Search
Teaching
CS 5487 (A) – Machine learning — 2012/13, 2013/14, 2014/15.
CS 5301 (A) – Computer Programming — 2012/13, 2013/14, 2014/15.
CS 2363 (A) – Computer Programming — 2009/10, 2010/11, 2011/12.
CS 3306 (B) – Contemporary Programming Methods in Java — 2009/10.
CS 4380 (B) – Web 2.0 Technologies — 2010/11, 2011/12.
GE 1319 – Interdisciplinary Research for Smart Professionals.
Final Year Projects
Research Mentoring Scheme
Awards and Honors
Early Career Award, Research Grants Council of Hong Kong, 2012.
NSF IGERT Fellowship: Vision and Learning in Humans and Machines, UCSD, 2006-07.
Outstanding Teaching Assistant Award, ECE Department, UCSD, 2005-06.
Office of the President Award, UCSD, 2003.
Henry G. White Scholorship, Cornell University, 2001.
Knauss M. Engineering Scholorship, Cornell University, 2001.
GTE Fellowship, Cornell University, 2001.
Mailing Address:
Dr. Antoni Chan,
Department of Computer Science,
City University of Hong Kong,
Tat Chee Avenue,
Kowloon Tong, Hong Kong.
IEEE Copyright Notice
©IEEE. Personal use of this material is permitted. However, permission to reprint/republish this material for advertising or promotional purposes or for creating new collective works for resale or redistribution to servers or lists, or to reuse any copyrighted component of this work in other works must be obtained from the IEEE.